Details
SKU:

TUL_CTR_SHMR920_BLK_LH
The Contour Series is an innovative, highly concealable, and comfortable outside-the-waistband holster from Tulster. Thanks to the ingenious "molded-in" concealment, low-profile design, and minimal material, the Contour holster is the ultra-discreet OWB solution that promises to take your concealed carry experience to the next level.
The "molded-in" asymmetrical wings of the Contour's Kydex shell angle the firearm's grip toward your body, eliminating any visible print. The streamlined design conforms the holster and gun to the contour of your waistline for maximum concealment.
Set it and forget it. The Contour features the innovative RAS, Retention Adjustment Slot. Unlike other adjustable retention holsters that need to be occasionally re-tightened, the Contour's RAS delivers peace of mind. Adjust the tag vertically to your desired retention strength, and then tighten the hardware for a rock-solid fit.
For those who have trouble with a traditional IWB holster, the Contour offers the concealability of inside-the-waistband with the added comfort of an outside-the-waistband solution. The curved shell of the Contour, coupled with precisely placed hardware, allows the holster to disappear into your waistline. The Contour is unobtrusive, easy to access, and provides the most comfortable and best concealable OWB carry experience available.
DISCREET BY DESIGN: The Contour features no unnecessary material and a sleek, curved shell, which allows the holster to conform to the contour of your waistline.
"MOLDED-IN" ENHANCED CONCEALMENT: The asymmetrical wings of the Contour angle the holster and handgun towards your body to eliminate printing and increase concealment.
SECURE ADJUSTABLE RETENTION: With the Contour's RAS, the tag can be vertically adjusted and fully tightened to allow for on-the-fly retention adjustment while keeping your firearm fully secure.
ADJUSTABLE RIDE HEIGHT: The Contour's belt loops are easily adjusted and held in place with custom stainless steel, ultra-secure double posts. This design allows the Contour's ride height to be easily adjusted for the most comfortable carry position.
ADJUSTABLE CANT: The Contour is a "straight-draw" holster, but the height of the loops can be offset to adjust the cant.
Features
Optic Compatible

Mid-Sweat Shield

Open-Ended Muzzle

Raised Sight Channel up to 0.04"

Undercut Trigger-Guard

Adjustable Ride Height ¾"

Adjustable Cant

Rounded and Buffed Edges

"RAS" Retention Adjustment Slot

Blackened Stainless Steel Hardware

Accommodates 1.5", 1.75", or 2" Belts

Minimal Material - .08" thickness

Made in the USA
In the Box
1

1/4" Truss Screw

1

Contour RAS Tag

1

#8 Neoprene Spacer

1

1/4" Slotted Post

4

3/8" Oval Head Screws

2

Bit Fit OWB Loops

2

1/4" Double Posts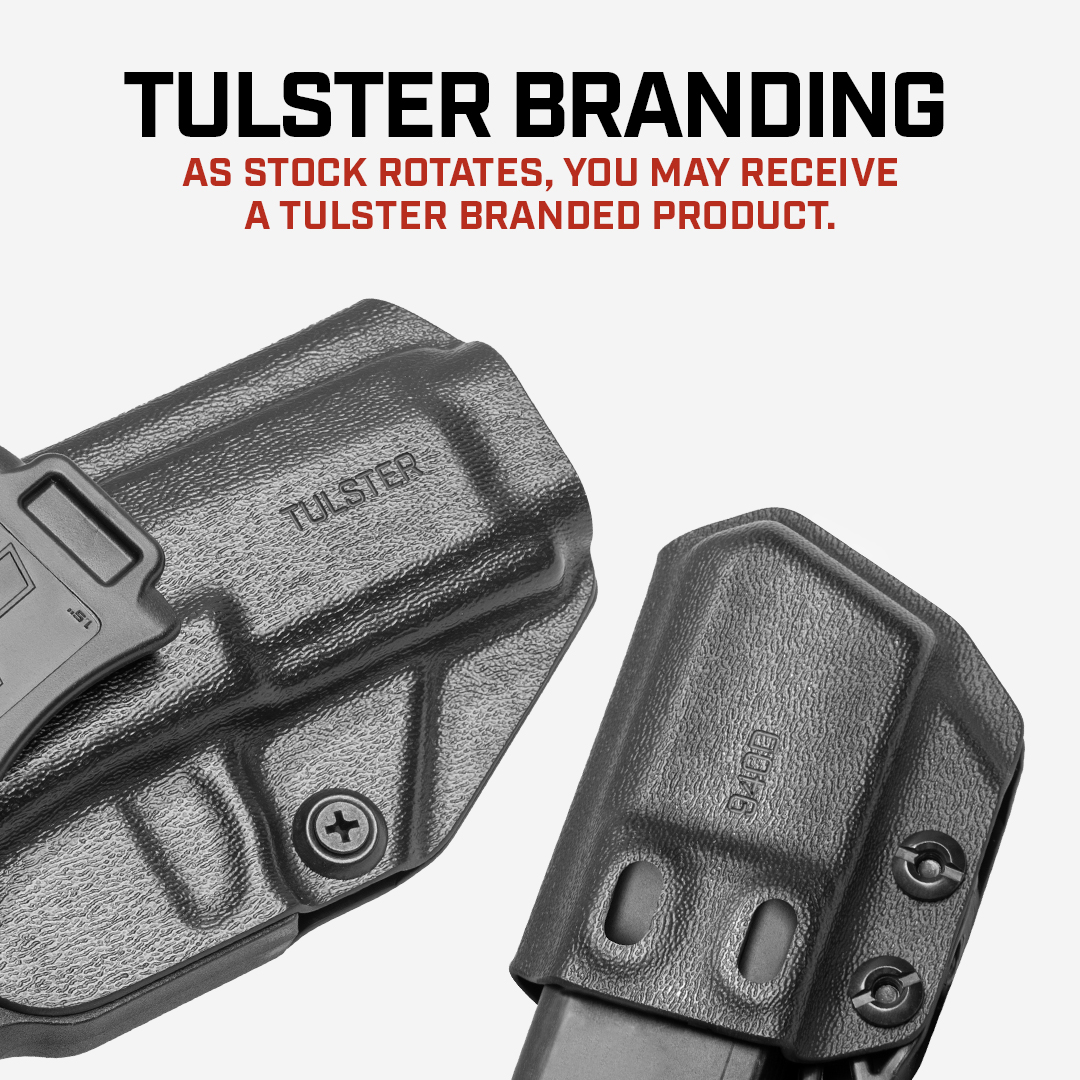 Warranty Details
Tulster proudly stands behind every product we make with a bulletproof Lifetime Warranty. If your holster or magazine carrier cracks or breaks at any time, stop using it and contact us immediately. Our Legendary Customer Service Team will promptly fix or replace the gear in question so you can continue to Carry With Confidence.