Details
The OATH (Optic-Ready, Ambidextrous, Tuckable Holster) series is a significant addition to the Tulster IWB holster family. Engineered with a red-dot optic in mind, the OATH accommodates the most common RDS, such as the RMR and SRO, while maintaining an exceptionally comfortable fit and finish. This discreet inside the waistband holster is tuckable, allowing your firearm and holster to disappear into your clothing. A minimal footprint and matte edge complete this sleek AIWB holster product, The Tulster OATH.
OPTIC-READY: The tool mold design and trim paths accommodate a wide variety of red dot sights, from RMRs to SROs.
AMBIDEXTROUS: The mid-sweat guard will keep your pistol clear of clothing and free from sweat while permitting ambidextrous carry. Switch the hardware from side to side for either right or left-handed shooters.
TUCKABLE: The discreet and ultra-strong metal clip allows for adjustable ride height and can be worn with a tucked-in shirt, either appendix or strongside carry.
ENHANCED CONCEALMENT: The addition of the ModWing brings concealed carry to a whole new level. The 3/8" - Medium attachment is pre-installed for every holster. The 1/2" - Large attachment is included for larger/thicker handguns or if you feel the need for additional concealment.
MULTI-STAGE FIXED RETENTION: The OATH comes with fixed retention so that the hardware can be fully tightened without needing constant readjustment. The included shims permit two additional stages of lighter retention to allow for an easier draw.
Discreet Clip: The Discreet MOD4U Clip has a high clamping force and will not slip off the belt. The clip is made from a 10XX steel alloy purpose-built specifically for CCW holster and mag carrier applications adding strength and flexibility. The under-hook design has a built-in progressive strain relief. If it sees a large amount of force, this strain relief, coupled with the uniform hardness of the steel, will gradually bend while continuing to hold instead of just hitting its limit and breaking.
Features
Mid-sweat shield

Open-ended muzzle

Raised sight channel up to 0.04"

Undercut trigger guard

Adjustable ride height: 1/2"

Rounded and buffed edges

Multi-Stage Fixed Retention

Minimal Material - .08 thickness

Optic-Ready

Ambidextrous

Tuckable

Works with DCC Clip or optional strut and soft loop
In the Box
2

1/4" Spacers

2

1/8" Spacers

2

1/2" Slotted Posts

2

3/4" Truss Screws

1

1.5" DCC Metal Clip

2

Retention Adjustment Shims

1

Mod Wing - Medium & Large Insert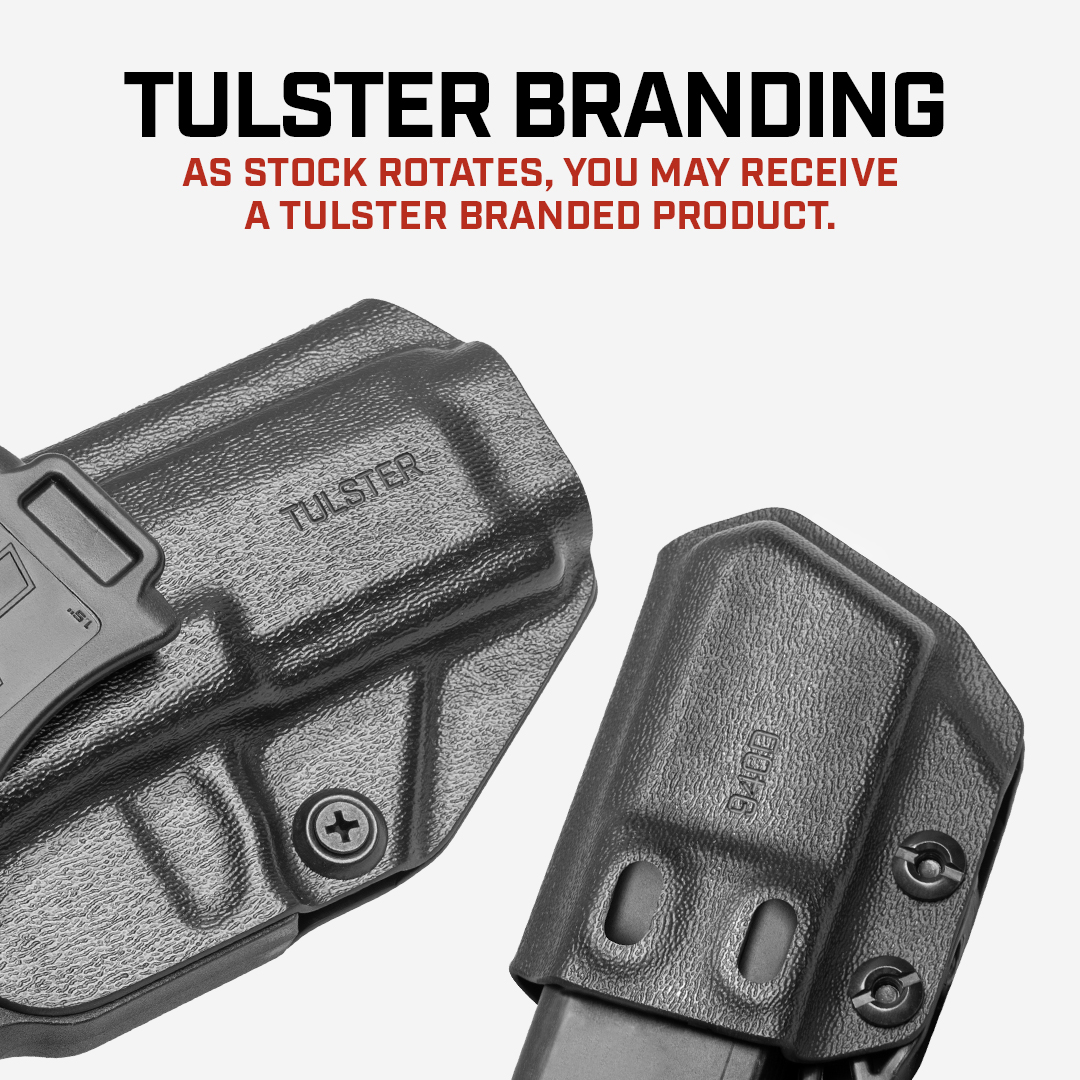 Warranty Details
Tulster proudly stands behind every product we make with a bulletproof Lifetime Warranty. If your holster or magazine carrier cracks or breaks at any time, stop using it and contact us immediately. Our Legendary Customer Service Team will promptly fix or replace the gear in question so you can continue to Carry With Confidence.