Details
SKU:

TUL_ECHPRO_U940D_BLK
The Tulster Echo Pro Carrier is our Universal Magazine Carrier, built to fit a wide range magazines from various manufacturers. New to the Echo Series, the Echo Pro is injection molded from a blend of polymers, and features an upgraded, more precise design. Thanks to the minimalistic design and lack of unnecessary material, it's a perfect, versatile and comfortable mag carrier.
Every 9mm/.40 Double Stack Echo Pro Carrier is manufactured to a precise fit. The injection molded shell allows us to offer an upgraded, sleeker look.
The most crucial feature of the Echo Pro Carrier is the innovative Patented MRD (Mag Retention Device). With the included Allen, the MRD can be adjusted to fit virtually every 9mm/.40 Double Stack magazine. In addition, it allows incremental adjustments to be made, so you can dial in the perfect retention for your mag draw.
The included 1.5" Tulster Quick Clip can be swapped from side-to-side, to allow IWB (Inside the Waistband) or OWB (Outside the Waistband) carry; accommodating either Right or Left Handed shooters. 25 degrees of adjustable cant can be made with the slotted holes on either side of the carrier.
The mold of the Echo Pro Carrier is designed to safely retain your magazine. The MRD pushes against the backside of your carrier, wedging it into the V-Shaped Wedge, holding your mag securely in place. Proper grip when drawing the mag on reload is fundamental, which is why the forward side of the mag pouch is designed at an angle for an index point.
The Echo Pro is proudly manufactured in the USA.
The Tulster Echo Pro Carrier is compatible with virtually EVERY 9mm/.357 Sig/.40/ DOUBLE Stack and STAGGERED Stack Magazine.
Features
Minimal Material

Adjustable Cant: 25 degrees

Adjustable Retention

Rounded, Hand Finished Edges

Works with Quick Clip or Soft Loop Kit

IWB/OWB for Right/Left Handed Shooters

Works with 9mm/.40 Double Stack/Staggered Stack Mags
In the Box
1

1.5" Quick Clip

2

1/4" Pan Screws

2

3/16" Slotted Post

2

1/8" EPDM Spacer/Washer

1

7/16" Set Screw

2

1/2" Pan Screw

2

1/4" Slotted Post

1

1/8" Allen Wrench

1

MRD - Mag Retention Device

-

All Screw Threads - Nylon Patched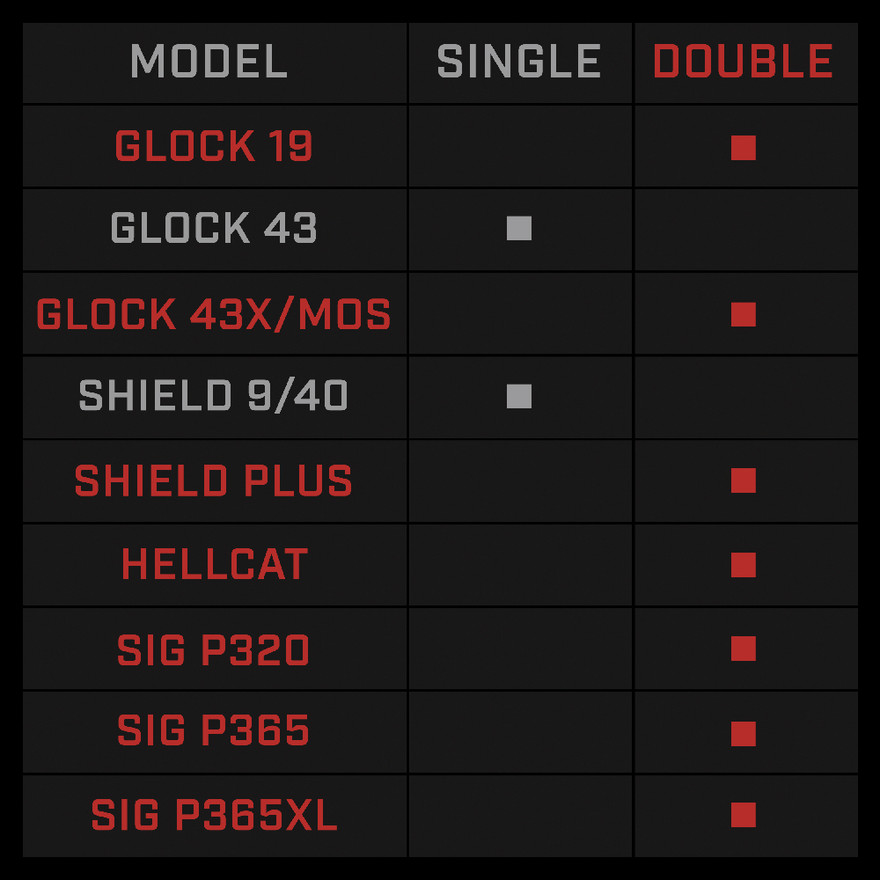 Warranty Details
Tulster proudly stands behind every product we make with a bulletproof Lifetime Warranty. If your holster or magazine carrier cracks or breaks at any time, stop using it and contact us immediately. Our Legendary Customer Service Team will promptly fix or replace the gear in question so you can continue to Carry With Confidence.